Financial Security and Payment Protection
At allVillas we provide 100% financial protection for your payments. We are members of the Travel Trust Association and abide by a strict code of conduct to protect your payments. Knowing that we provide payment protection gives you extra peace of mind when booking a villa or holiday through the allVillas website.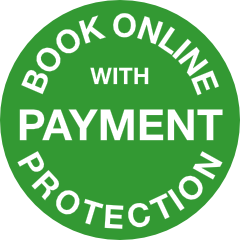 We can't protect your payment if you don't pay through us!
Book with confidence. At allVillas we provide 100% financial protection for your payment. To keep your payment safe you must book and pay through allVillas. Payments made directly to chalet owners or third parties are not protected.
If at any stage you are unsure about the level of protection provided or are concerned that an owner, a villa manager or a third party has requested a payment directly from you then please contact us immediately.
REMEMBER: To be covered by our Payment Protection you must make your payments to allVillas. This includes both the deposit and balance (if you paid in two installments).
In addition to the comprehensive protection provided by allVillas, many of the chalet companies that list their properties on our website are also protected by at least one of the following travel organisations:

ATOL

ABTA

IATA

Travel Trust Association
If you would like confirmation of the exact protection provided for your holiday please don't hesitate to contact us.
IMPORTANT: We can only protect payments made to allVillas. If you pay directly to a private owner or third party company, then your payments are not covered by our Payment Protection.
TRAVEL INSURANCE: The payment protection provided by allVillas is not a replacement for travel insurance. Our payment protection is designed to cover you in the event of financial failure of the accommodation provider. You should always have an additional travel insurance policy to cover the other risks associated with your travel or holiday.